Please enter search criteria
Battle of the Brackets 2021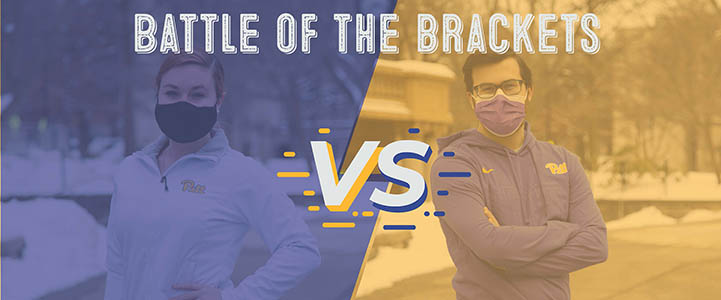 Welcome to the Battle of the Brackets! Watch your favorite men's college basketball teams compete for the top prize, and win prizes of your own when you play along. Follow The Pitt Shop on social media to compete and for contest details and team information.
Contest Rules
To be eligible to win, contestants must meet the following guidelines:
Contestants must comment on the official contest post on The Pitt's Shop social media channels. Comments must include which team a contestant will be competing on, must include the official contest hashtag, and must include a teammate. Tagging a teammate does not automatically enter them in the contest.
The Grand Prize Winner will be selected at random from all qualifying members of the winning team. All qualifying members of the winning team will receive a participation prize and store coupon.
All qualifying contestants will be eligible to win prizes.
Contestants must be a member of the following groups to be eligible:
- Reside in on-campus University Housing (must specify building)
- Reside in off-campus University Housing (must specify building)
- Pitt Alumni
- Pitt Staff
- Pitt Faculty
- Pitt Commuter Students
- Pitt Sorority
- Pitt Fraternity
- Flex@Pitt Student